On May 26, 2021, BAP's Board of Directors decided to reward personal development for Ms. Nguyen Thi Thanh Hai for her excellent achievement of CSQA (Certified Software Quality Analyst) certificate with a personal development reward of 5,000,000VND and providing the entire exam fee ( 8,225,000VND – equivalent to $350). Ms. Hai is also the first employee to get this certificate at BAP.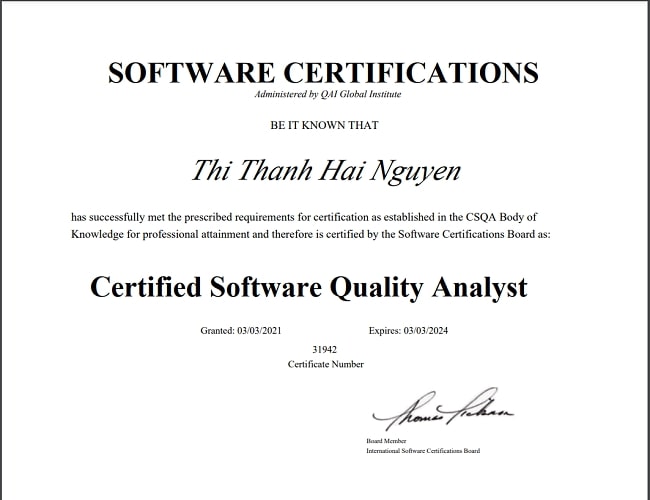 The CSQA (Certified Software Quality Analyst) certificate recognizes professional competence in understanding the principles and practices of Product Quality Assurance in the Information Technology field. The certificate is certified by the Quality Assurance Institute Global Institute based on the results of tests related to the professional knowledge and practice of Quality Assurance. CSQA aims to equip knowledge and capacity according to international standards for Quality Assurance for QA systems, especially QAs with long-term experience in the Information Technology industry.
This success is the result of the continuous efforts of Ms. Nguyen Thi Thanh Hai and will definitely inspire the members to work together, strive to break all the limits to achieve more gratifying results in the future.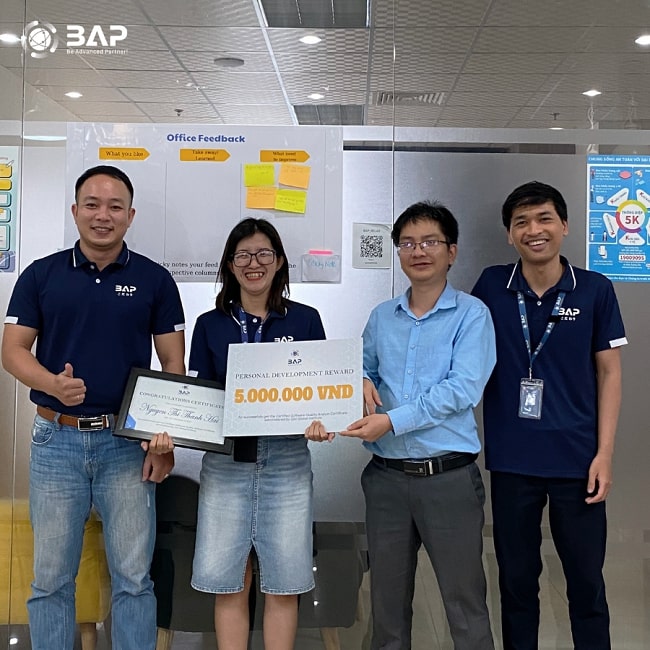 Once again, congratulations Ms. Hai on achieving this valuable certificate. Hopefully, in the future, BAP will receive more good news from her as well as all members working at BAP.
The personal development reward is one of the incentives for employees of BAP Software company with the desire to motivate employees to strive to improve skills and contribute to building, dedicated to the common goal: developing people and improving project quality. If the certifications are on the list of certificates, the company will support the exam fee according to the actual invoice.