After nearly 02 months of selection, going through 03 rounds of Preliminary, Presentation and Final, BAP was honored to receive 03 Awards from Vietnam Software & IT services (VINASA)
– Top 10 Vietnam ICT companies 2021 – A-IoT field
– Top 10 Vietnam ICT companies 2021 – Blockchain field
– Top 10 Vietnam fast-growth companies 2021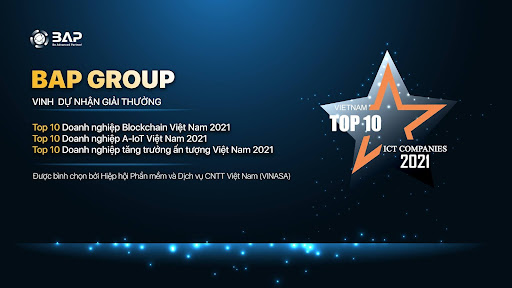 The award is a recognition and further affirmation of the company's development potential and position in the fields of Blockchain, AI, IoT.
This is also the motivation for BAP to keep our values and not stop bringing the BAP name to the global market. 
Software outsourcing service is not all BAP capable of. With our awesome technology experts, we also provide software solution services for big corporations in Japan, Vietnam as well as English-speaking countries. Furthermore, a lot of Vietnam's successful start-ups are backed by BAP Ventures, an investment fund of BAP Group.