VR development is the new demand of business today, because businesses can see that it will bring benefits to them in the future.
However, they don't know how to start developing a VR system, and which partners they should place trust in?. This article will help businesses to answer what they should prepare for VR development, and introduce companies that get successful for VR development that they need to consider.
1. What your business needs to arrange for VR development?
To develop VR is not easy because your team must prepare for 3 important things:
Hardware
Software
Programming
1.1. Hardware
This part is the first step of business for VR development, so your business cannot ignore some like:
VR development PC
PC is a crucial part of VR content development, but your team needs to consider kinds of PCs as not all of them are good for VR development projects.
When going into the VR development project, it requires a best PC to process image, video with larger specifications than types of PCs like gaming, or regular ones.
Specifications will rely on what VR development type you will conduct, or kind of VR contents you build. But there some general requirements for specifications that you must know:
CPU must be Core i7 or at least Core i5, this just can process VR development. 
 Your team must get the memory of PC that minimizes 16GB or 32GB if you include room.
Storage of PC should be SSD instead of HDD.
Drive C gains from 240GB – 480GB or even more.
Furthermore, if your business kicks off the VR game development, the PC is different in this situation:
It has the ability to produce 360° 3DCG on the left and right screen for description.
Images of VR games are processed by a heavy load.
Graphics Processing Unit must have high-performance.
Also, we recommend some gaming graphics card:
NVIDIA GeForce RTX 20XX including 2080 Ti, 2070, 2060, which cost from $500.
AMD is an another choice, you can consider Radeon VII, RX Vega/5XX series such as 580, 570, 560, and the price of each one is from $200
In general, to develop VR content demands high-performance PCs with high specifications, and the fee at least business pays for PCs that are 100,000 JPY or even more.
And we see that PCs desktop is the best choice to develop VR in terms of battery, heat diffusion, and budget.
VR Headset (HMD) 
For VR development, VR headset is an essential hardware in building VR contents such as VR games, or VR apps.
There are some VR headsets that your business should take into account:
PlayStation VR
Oculus Rift
Oculus Quest
HTC VIVE
1.2.  Software 
If your business wants VR development works, software will be the main part.
There are 2 platforms for VR software development:
Unity VR development
UNREAL ENGINE VR development
VR development Unity 
The Unity software gets famous as a game engine, and controlled by Unity Technologies company. And this is usually applied in smartphone, applications, and VR development.
For this software, businesses can generate actions without using any programming languages.
There are some prominent supplies that businesses can use in Unity software:
3D models
Animations
Sound effects
Any programmers can get these functions from the store, and the company also provides the personal package for free to individuals.
To be honest, this software is suitable for newbies who would like to conduct VR development.
UNREAL ENGINE VR development 
The software is a programming tool established by Epic Games, which is working in different solutions including PC games, game programming, real graphics, and behavior as well.
We can say that this software is high-performance gaming software, and your business can make use of all functions on this without payment.
However, if your business develops games for selling, and gets more $3000 each quarter, the Epic Games will collect an extra 5% royalty from business.
 1.3 Programming
For programming, we also introduce the common ones in the IT market that they use along with Unity and Unreal Engine for VR development or other products.
C# with Unity – VR development language: when you want to develop special or advanced products, you can use programming language like C# for the newest versions. And you cannot use languages such as Boo and JavaScript for this current version.
Programming language For UNREAL ENGINE, this allows people to use C++, or BluePrint.
C# with Unity – VR development language 
C# is a programming language managed by Microsoft Corp.,. This language is available for Web services, Smartphone apps.
The information of C# is covered on the Internet, so everyone can get knowledge of this language with ease.
Programming language For UNREAL ENGINE
C++ is known as an updated version of C, and this has been applied in different platforms from VR development, gaming, and more.
BluePrint is a different type from general languages, when using BluePrint, programmers can make use of nodes that are linked through lines without coding in text.
In general, most designers will choose BluePrint to generate the gorgeous image, and technicians will program the game in C++.
2. Some Offshore Companies for VR development
2.1. BAP Software Co.,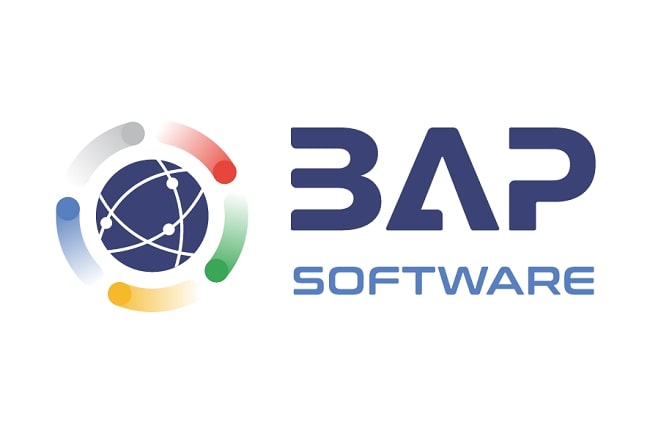 BAP is a company established in 2016, but we have plenty of experience in VR applications development, or other technologies for business.
Our projects can list here include:
VR meeting – using Unity to build for our customers.
SMART Trading – one of our blockchain products that we developed successfully for customers with language PHP, Redis, Blockchain.
Smart E-learning – using Big Data, and AI to build up the app for our customers.
Relied on our experience in VR development, and others, we also support more technologies based on customers requirements.
| | |
| --- | --- |
| Company Location | 103-0025 Okamoto Building 5F, 1-11-3 Nihonbashi, Kayabacho, Chuo-ku, Tokyo. |
| Establishment | 1st Mar , 2016 |
| Services | Web/App services, Big Data, VR development, Blockchain, AI, Game, ERP. |
2.2. Core Soft Co., Ltd
The company provides web building, develop systems in the IT industry.
They get successful with 360 VR development helps people become more beautiful. Also, they earn reputation in some sectors such as education, media,.. With various systems.
In Japan, BAP and Core Soft are 2 trustworthy businesses that bring value for businesses.
| | |
| --- | --- |
| Company Location | 6th floor, Suzuwa Building, 5-2-3 Asakusabashi, Taito-ku, Tokyo |
| Establishment | December 2000 |
| Services | App development, WEB system, business system |
2.3. High Tech Systems Co., Ltd
This company is one of the successful companies that can develop VR.
Daydream is a VR game app, which is a kind of puzzle game applied the Unity software from design to the final output.
The company also provides some services like smartphone apps, business platforms.
| | |
| --- | --- |
| Company Location | 7-F, Taiki Life Okayama Building |
| Establishment | February 2008 |
| Services | App development, WEB system, business platforms |
3. Which companies your business should partner for VR development?
In Japan, although there are many companies that can conduct VR development, few companies can get successful from the beginning to the final output.
We recommend BAP should be your choice for VR development as BAP has got successful projects for various Japanese companies who believe in us not only for VR development, but also for other technologies including Big Data, AI, Blockchain.
Beside, our workforce reaches at more than 200 excellent technicians who gained experience in working with Japanese.
We also have some competitive advantages:
Cost for VR development that is only half compared to others on the Japan market, because our workforce is placed in Vietnam.
Our team in Japan, who can communicate well in Japanese, so your business cannot misunderstand.
Quality Management ISO 9001
Information Security Management ISO 27001
Prized Vietnam's Top 20 Golden Brands 2020 in Product Quality category.
If your business wants to request an VR development, or any systems, our engineers will suggest ideas, support during and after projects.