Salesforce is known as a software that helps businesses to solve the sales, marketing, and customers' management. This platform brings various benefits to improve the businesses' performance, and satisfy customers.
In addition, Salesforce is installed with ease, and businesses can customize from various functions. However, if your businesses don't deeply understand the functions, characteristics, and development methods of Salesforce software, you may not be able to  create the contents, flows for business optimally.
In this article, we will introduce to you about Top 5 Salesforce development companies that have a lot of experience in working with many businesses in Japan.
1. BAP Co,.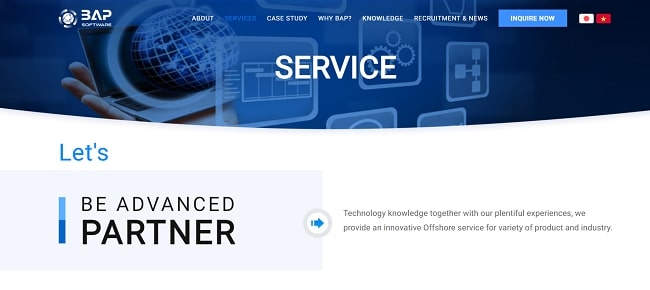 BAP is a trustworthy partner for Salesforce consulting and technologies
BAP is getting famous on the market as an offshore company between Japan and Vietnam. When it comes to Salesforce, we have experience in developing Sales and Marketing functions including:
We helped our partners develop a sales system so that their staff could communicate with customers on this platform. Furthermore, we also advised them to build the internal workflow based on Salesforce that departments can work smoothly.
Or we also work with them closely for a scenario for Marketing by Salesforce that their marketing department can deploy digital strategy on it. And they can rely on the report to revise Marketing activities, or manage their customers for creating new campaigns.
From our engineering team, businesses have growth and performance in every department such as Sales, Marketing. Because they now can work with a shared workflow, and the process of businesses become more consistent.
In the near future, we will support businesses better and better, because we are requiring Salesforce certification for consulting and installing. Also, we provide technological services including AI, Big Data, Web Service, Blockchain, and Ruby development.
Company location
Tokyo, Japan

103-0025 Okamoto Building 5F, 1-11-3 Nihonbashi, Kayabacho, Chuo-ku, Tokyo

Tel: (+81) 03 6280 4268

Osaka, Japan

541-0053 Toshiba Building 8F, 4-2-12 Honmachi, Chuo-ku, Osaka

Established
March 2016
Kind of companies
Nationwide
Development
Salesforce, AI, Big Data, Ruby Development, Blockchain, Web Service,
2. Infonic Co., Ltd.

Infonic Company for Salesforce development – Source: Infonic website
This is a company that implements systems like Ordering, customers. And inventory management,..They tend to customize customers requirements based on Salesforce to scale up businesses. Furthermore, Infonic also has service for building websites, or printed designs in order to meet the wide range of customers' needs.
Moreover, they are also known as a Salesforce consultant that they have experience in supporting and installing the new system, or linking with the external systems.
Company location
Headquarter:

7-14-16 Ginza, Chuo-ku, Tokyo Taiyo Ginza Building 4F

Established
2005
Kind of companies
Nationwide
Development
WEB system, server / cloud
3. Infotech Service Co., Ltd.
Infotech Service company has 50 years-development in Japan – Source: Infotec service
The company has the long history since 1969, but they conducted a merger and organizational restructuring as a member of "Infotech Group" in 1998. And now, this has more 900 employees in order to serve the various projects in the IT sector.
In terms of their strengths, we can say that they ensure about working with customers from consultation to development process, and maintenance. In addition, they have conducted many projects such as business systems, web systems, and they also get Salesforce's certification for consultation.
Especially, they show that they used to collaborate with life insurance company to develop the EUC system in many years. For that system, they will ensure the consistency in operation despite in maintenance, or fixing processes.
| | |
| --- | --- |
| Company location | 7-5-25 Nishi-Shinjuku, Shinjuku-ku, Tokyo Nishi-Shinjuku Prime Square |
| Established | 1998 |
| Kind of companies | Internal Japanese Company |
| Development | Business system, WEB system, Web design |
4. Accelerator Universe Co.,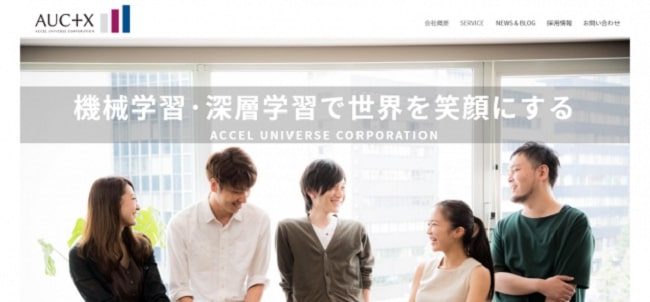 AUC is the emerging IT company on the Japan's market – Source: AUC
Accelerator Co., is famous for developing systems mainly in Shibuya-ku, Tokyo. Although this is not a major company compared to the three ones above, just 10 employees, they work with double performance to keep up with customers' deadlines in each project.
At present, their business activities consist of 4 services:
Media support
SI
ASP
Homepage service
Each service, they serve for different customers from small companies, major corps, or emerging firms that when they have demand. They also support web development, Smartphone apps, tablets by using HTML5, and CSS3.
Recently, they developed more business systems like Salesforce that helps businesses in managing sales systems, products systems, …
| | |
| --- | --- |
| Company location | 7F East Shibuya Building, 3-6-1 Shibuya, Shibuya-ku, Tokyo |
| Established | 2012 |
| Kind of companies | Nationwide |
| Development | Business system, WEB system, CMS construction |
5. Suzuki Shoten Co.,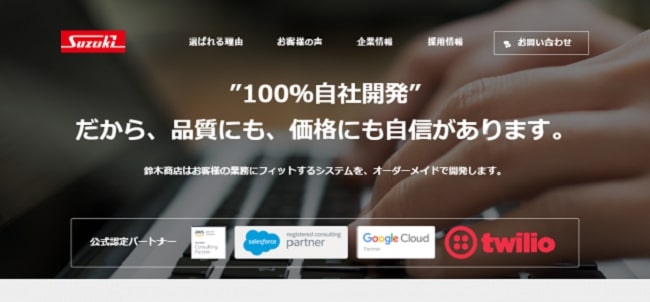 Suzuki Co., is one of Salesforce consulting in Japan – Source: Suzuki
In the IT industry, this company is having a reputation by 100% self-development for customers' requirements. Their strength is to develop Cloud technology, or web development. All of their business activities are using Cloud to store, and track the speed of work.
With Salesforce, they are consulting partners, and they operate in Kansai for businesses there. In any case, they will suggest and conduct technological development based on the scale of businesses. Until now, they are still working well with this business system as well as optimizing cost for the companies that they consult.
| | |
| --- | --- |
| Company location | 1-7-4 Nishitenma, Kita-ku, Osaka-shi, Osaka Kyowa Nakanoshima Building 3F |
| Established | 1989 |
| Kind of companies | Local Company |
| Development | Business system, WEB system |
These are the top 5 Salesforce development companies that BAP wants to introduce. Each company will have their own strengths when working with businesses.BAP has strengths in consulting and giving ideas when working with customers for business systems as Salesforce or SAP. Last but not least, we are confident with our experience, and especially our engineering teams who have worked in different Japanese companies, so they can understand the language, culture with ease.