If we discuss the topic of which technology makes business operations more convenient and efficient, Salesforce cannot be ignored. A cloud computing technology that is popular and growing strongly in recent years, bringing a positive influence to the way many businesses operate and handle. This article will help you understand what Salesforce is and its pros and cons.
I. What is Salesforce?
Salesforce is the leading CRM (Customer Relationship Management) platform, accounting for 19.5% of the CRM market share. Salesforce builds and delivers a lot of apps, but mostly focuses on sales and customer service. 
Salesforce services enable businesses to use cloud technology to better connect with customers and partners.
II. Salesforce Architecture
Here are the different layers of the Salesforce architecture
1. Multi-tenant
Salesforce stores data in a single database schema. Application services are shared among multiple clients. The development or maintenance costs of an application can also be shared at the same time, saving costs for customers. All running on the latest version, customers don't have to worry about app upgrades as they happen automatically.
2. Metadata
Salesforce uses a metadata development model, which makes it easy to customize and scale.
3. API
Salesforce provides a powerful source of APIs to help customize and develop Mobile App. These APIs allow different programming bits to exchange data. We can connect our apps with other apps, access the application from any location, use any programming language that supports web services.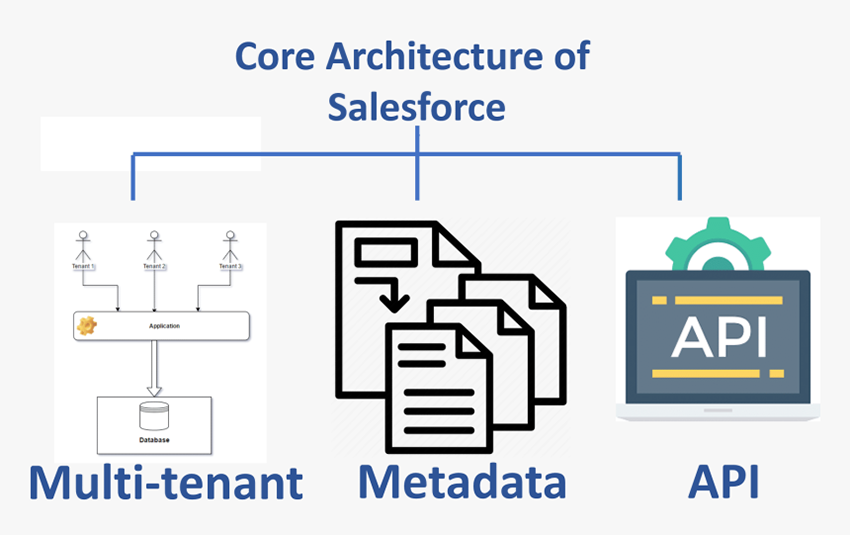 III. What are the advantages and disadvantages of Salesforce?
1. Advantages
Depending on the needs of each business, Salesforce allows customizing the functions accordingly.

Diverse and quality service features help businesses improve customer satisfaction rates.

The dashboard is customizable. Once you log in, the software's dashboard offers a range of reporting utilities, giving you an overview of how your business is performing.

Salesforce has more than 2,600 apps in AppExchange and can integrate with many. For example, Users can integrate Salesforce with Gmail.

Since all data is stored in the cloud, the platform can be conveniently used on multiple devices such as computers, laptops, smart phones, etc.

Flexible data analysis and reporting.

Good data security.
2. Disadvantages
With great features, Salesforce is the right choice for large-scale companies, but it is a complex and cumbersome solution for small businesses and startups.

Salesforce depends on internet connection. A stable network connection is required to ensure the consistency of business processes.
IV. Why should businesses use Salesforce?
CRM is not limited to any industry, and so is Salesforce, every field can use this software.
Salesforce customers often rate this software as unique, for three main reasons:
Fast: Salesforce software takes only a few weeks to months to deploy, while traditional CRM can take up to a year.

Salesforce provides a 360-degree view of the customer. It's easy to use to understand your customers better.

Effective: Because Salesforce is customized to meet business needs, customers find it very effective.
Salesforce builds a bridge between the company and its customers and between its departments (from Human Resources, Sales, Marketing to Customer Care). Using Salesforce helps discover and exploit more customers, increase revenue from customers, and expand markets.
Salesforce is gradually becoming a tool trusted by many companies around the globe. Large companies in the world are using Salesforce, such as: Symantec, Dell, Air Asia, Sansiri, … and businesses in Vietnam: Lazada, Capitaland, Prudential, …
Above is an overview of Salesforce information, hopefully it can help you understand "what is Salesforce?". "It's not just a CRM system. It's a platform that we can use to build all the functionality that we need."(excerpt from salesforce.com)